Convert your Clinical Forms to an Electronic Patient Record with Unify
DMF Systems has been digitalising the Irish healthcare system for the past 22 years. We have developed comprehensive software solutions that support the sharing of key patient information.
From patient referral right through to patient discharge, our GeneCIS Clinical Portal supports the capture and communication of patient information but more on this later. Right now, I'd like to introduce you to Unify, the latest module available in the GeneCIS Clinical Portal.
Unify enables healthcare providers to complete any standard form online. Whether it's a patient assessment form, medical PDF form or any other form, Unify makes the form available digitally so that it can be completed and stored online securely.
Unify is a digital platform that not only streamlines document management and data capture for all forms but also enables the seamless retrieval of forms and documents to create an electronic patient record.
Take User experience to New Heights with Unify 
Unify delivers a highly responsive, fluid, and interactive user experience. Its range of tools enables clinical and administrative users to digitally create, store and complete any PDF form on their workstation, mobile or tablet. Unify automatically links the completed form to the patient record and facilitates passing on the form, using the hospital or clinic's defined workflow, to the next system user in the document chain.
Unify supports a variety of methods for data capture so whether you want to capture text, tick boxes, circle imagery or anything else for that matter, Unify has you covered!
Here are the most popular ways that data is captured in Unify:
· Text
· Drawing
· Tick boxes
· Illustrations
· Strikethrough
· Highlighting
· And more!
Don't see your preferred form of data capture on the list? We are sure it is possible!
Get in touch today to see how!
How Does Unify Support Data Integrity?
As Unify is a digital solution it enjoys a significant advantage over paper-based forms. Paper-based forms are open to being illegible, incomplete and incorrect. There can also be delays with sharing these forms with other care providers. Unfortunately, all of this can have a knock-on effect on the clinical decisions taken and ultimately the care the patient receives.
Because Unify has built-in Data validation throughout, it detects and prompts users on invalid data capture errors with its built-in logical field validation. When it comes to the user signing the form, Unify first validates that it has been filled in correctly before it can be signed.
Unify users are therefore actively assisted with matching clinical guidelines and minimising incomplete or incorrect data capture. The internationally accepted dimensions which contribute to Data Quality are its Validity, Accuracy, Completeness, Relevance, Legibility, Reliability and Timeliness. When compared to paper-based forms- Unify has the upper hand when assessed across each one of these dimensions.
Unify Securely Stores Data for Data Retention & Audit Purposes
A major downside associated with paper records is the cost of their warehousing and retention. Unlike Paper files which are bulky and take up valuable real estate, all forms created with Unify are automatically stored as a patient record. Paper records are susceptible to being misplaced or having changes made to them by an unauthorised person, quite simply because access control is more difficult to maintain. Unify is different because the software is highly secure and available to authorised users only.
Our deployment model means that Unify supports enhanced security because it provides you with a robust audit trail. All user activity is logged and can be reported on as and when required. It can quickly be determined who accessed a particular record, when they did so and what actions they took.

Seamlessly Report & Analyse All Data Captured in Unify
Simply put, paper-based medical forms don't lend themselves to data analysis. The captured information needs to be transferred onto a computer which is time-consuming and introduces a risk that the information will be incorrectly transcribed.
The Clinical data captured in Unify is stored securely in the reporting database and can easily be integrated for reporting. From talking to our customers and our experience in the healthcare industry, it's clear that everyone has a favourite reporting tool. So, we didn't bother reinventing the wheel. Rather, we've made sure that Unify seamlessly integrates with third-party reporting and analytics tools such as Microsoft Power BI, Splunk and Tableau, plus your favourite reporting tool so that admins and authorised users can continue to use the reporting tools they know and love.
Securely Validate Your Medical PDF Forms Your Way with Unify
Unify offers an intuitive UX so there is minimal training required for users to start using it with confidence. It offers a smooth user experience regardless of the type of device you are using.
The digital form precisely replicates the design and layout of the original paper-based form which means that it feels familiar to the user right from the start. This encourages user adoption getting everyone up and running in no time. We understood that Medical forms will sometimes require modification over time, and Unify can easily handle these changes too!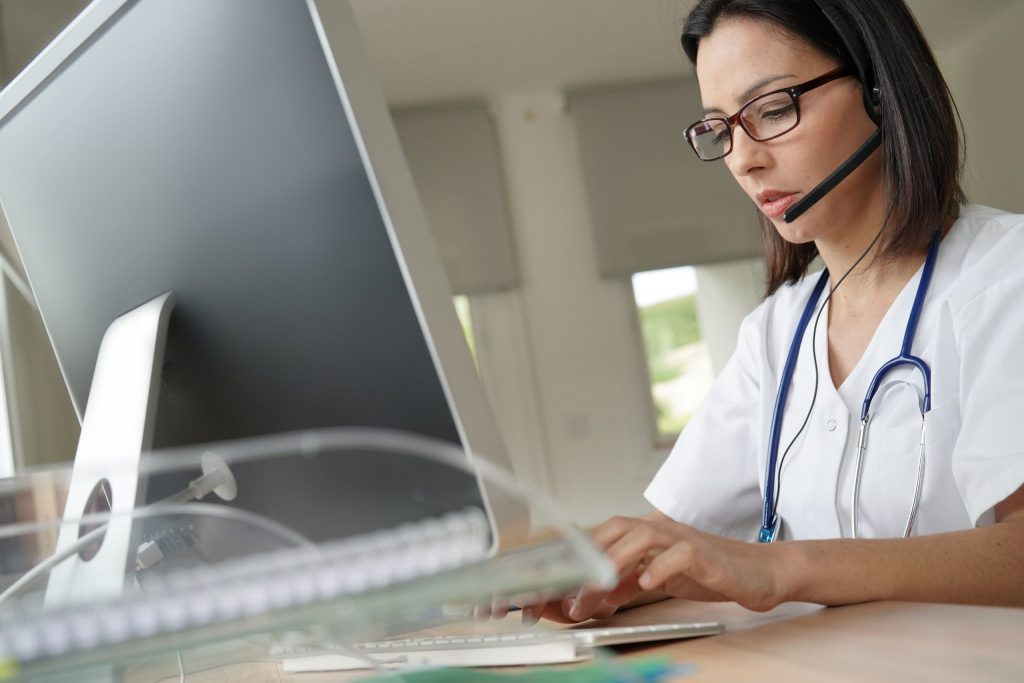 Empower Your Healthcare Providers with Unify
Unify supports users across a variety of departments, from Oncology to Dermatology to Neurology and everything in between. If you work in a healthcare setting, you'll know that there are forms spanning everything from patient admission to patient diagnosis to patient discharge. Not to mention all of the administration form requirements such as admission forms, incident report forms and human resources forms.
Data capture requirements and the forms themselves vary wildly across healthcare provision. Luckily Unify can handle any kind of form, so no matter how complex or basic your form appears, Unify is the solution that enables you to digitize all of your forms.
Nowadays Multi-disciplinary Teams (MDTs) are a key component in the delivery of effective healthcare – such as in Cancer Care. Digital health solutions like Unify can help drive greater integration across teams by promoting and facilitating better communication. Since Unify automatically saves the form to an electronic patient record, other authorised users involved in the care of the patient can easily retrieve the information required from the electronic patient record so there is no need to trawl through extensive paper records.
___________________________________________________________________________
Seeing is Believing: Book Your Unify Demo Today!
Get in touch today to see how Unify can convert your paper-based forms to an electronic patient record. Secure your information while making data capture a breeze with Unify. You won't believe it until you see it for yourself!
___________________________________________________________________________
Unify: The Secure Solution for Converting Your Paper-based Forms to an Electronic Patient Record
We want our customers to know that the security of your Patient data is paramount and that we take Information Security seriously. Just like all of DMF Systems' other digital health solutions, Unify has been designed with the highest levels of data security and the minimisation of security threats, whether they be malicious or accidental, in mind.
From a network perspective we strongly recommend that Unify client hospitals enable HTTPS. The application itself provides different levels of access privileges based on the type of user. Access levels can be clearly defined. This is granted and configured by the system administrator and includes different levels of access such as read/write, read only and edit functionality. As already noted, a comprehensive access and update audit log is maintained in Unify. When records are updated, details of the changed record are stored along with the User ID that made the change and the date/time of the change. The audit log and change details are available to authorised users for reporting from Unify.
Unify: A New Addition to the GeneCIS Clinical Portal
Unify is the newest addition to the GeneCIS Clinical Portal– a fully integrated suite of Clinical Information Systems that electronically facilitate and communicate the entire Patient Journey from the appointment referral right through to the patient discharge summary.
Now, with the addition of Unify which seamlessly integrates with other GeneCIS modules such as Clinical Summaries and eReferrals, we have enhanced and extended the range of functionality available to Clinicians and other users of GeneCIS. Available as a fully inclusive package or on a modular basis, here's a quick introduction and overview of each one of the GeneCIS modules:
eReferrals  is a Multi-Speciality electronic referral system which improves communication between primary and secondary care and speeds up the referral process.
Clinical Summaries facilitates the safe recording and communication of clinical notes between clinical teams. With Clinical Summaries clinicians are provided with up-to-date information on their patients which improves the timeliness of patient handovers and reduces overall inpatient duration.
MediViewer provides convenient and secure access for authorised users to a variety of patient results online and on time from one convenient location.
eDischarge is a user-friendly, secure, electronic patient discharge solution. A web- based HIQA compliant solution that creates complete and accurate records of patient care at discharge.
ePrescription designed to help reduce Medication Errors and Adverse Drug Events, ePrescription enhances the eDischarge workflow process and enables care providers to produce prescriptions which can be delivered electronically.
3rd Party Integration provides value added cost-effective integration with existing third-party systems to deliver seamless connectivity between your applications.
Here Are Some of the Reasons Why People Love Unify
· Unify converts any clinical form into an electronic patient record. These forms are readily available to share with authorised teams.
· Unify seamlessly integrates with other hospital applications such as GeneCIS Clinical Portal eDischarge and eReferrals.
· Unify enables users to complete forms using any type of data including tick boxes, digital signatures, drawings and more.
· Unify detects and prompts users on errors with its innovative logical field validation before validating the form.
· Unify retains forms for historical data and audit purposes. Unify forms are secure and can be easily analysed and reported on.
· Unify provides an intuitive user experience for clinicians. The software requires minimum to no training to complete forms digitally.
With Unify, information is recorded electronically and securely stored which allows ease of access to information and reduces duplication of forms such as patient assessments. Unify reduces the amount of paperwork circulating in an organisation which can lead to cost savings and time saving in storage, printing, and labour, not to mention the information security benefits!
If you would like to know more why not get in touch? We'd love to answer any questions or why not request a demo – we're only too happy to give you a walkthrough of the Unify solution in action!
For more information on products, please click the link https://dmfsystems.ie/products/unify/