BIOMEDICA 2023: 7 KEY LEARNINGS FROM IRELAND'S PREMIER BIOMEDICAL SCIENCE CONFERENCE
We were thrilled to attend the prestigious BioMedica 2023 conference, held in The Convention Centre, Dublin on 27th and 28th of March 2023. BioMedica is organized by the Academy of Clinical Science and Laboratory Medicine and brings together healthcare professionals, researchers, innovators, and industry leaders from around the world. In this blog post, we will share some of the highlights from our experience at BioMedica 2023.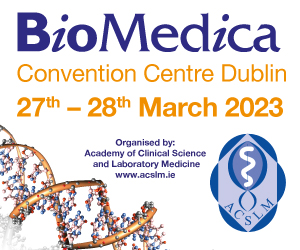 An Impressive Line-up of Speakers
One of the most captivating aspects of BioMedica 2023 was the impressive line-up of speakers. Renowned experts in their respective fields, they delivered thought-provoking presentations on a wide range of topics.  
We were particularly intrigued by Professor Owen Smith, Professor of Paediatric and Adolescent Medicine, Consultant Paediatric Haematology at CHI @Crumlin and Chief Academic Lead to CHI Group, who discussed Genomic Medicine: A Genetics and Genomic Strategy for Ireland. Dr. Jeff Connell, Assistant Director at National Viral Reference Laboratory (NVRL), shared insights on Emerging Viral Infections and their diagnostic challenges. The keynote speakers at BioMedica 2023 provided us with valuable insights, sparked engaging discussions, and inspired us about the exciting future of Biomedical Science. 
1. Healthcare is a Team Sport
Pat Mulhare from University Hospital Waterford delivered a very informative session on Management and Leadership that inspired everybody in the room. Mulhare's presentation was not only informative but also engaging, as he shared snippets from movies/books that motivated him on his leadership journey in Medical Science. 
One of the memorable snippets Mulhare shared was from the book "The Fall and Rise of Reginald Perrin" (1976-79), where the quote "I didn't get where I am today" struck a chord. It highlighted the importance of perseverance and continuous growth in one's career. 
Management Styles: Mulhare elaborated on various management styles, including Authoritative, Persuasive, Consultative, Collaborative, and Transformational styles. He emphasised that leadership is not limited to a title or designation, but it's about the impact, influence, and inspiration one can have on their team. 
Continuum of Scientific Endeavor and Career: Mulhare emphasised that scientific endeavour and career growth are not isolated events but a continuous journey. He stressed the importance of constantly learning, improving and advocating for the medical science profession while fighting for patients, autonomy, and better conditions. 
Creating Value: Mulhare shared valuable insights on creating value in healthcare. He emphasized that striving to be of value rather than just seeking success is crucial. This involves anticipating and establishing the need clinically for patients, scientifically/financially for the department, and for the staff and hospital/service ultimately. He also highlighted the significance of building relationships based on trust and likeability, as people do business with people. 
2. Ireland's Genomic Strategy: Ethics and Consideration for Ireland's Genetic Strategy
The HSE National Genetics and Genomics Strategy was launched in May 2022 with the purpose of developing a single national strategy and implementation framework for genetics and genomics in Ireland, encompassing care provided across acute, primary, and community settings, and spanning all ages. 
The framework aims to determine the scope and scale of Ireland's genetic and genomic ambition, clinical and research priorities, plan for international collaboration and partnership, and plan for the reform of existing clinical and laboratory services in Ireland. 
The process of strategy development involves working groups focusing on different areas: 
Workforce and Collaboration: Identifying the necessary skills to develop and attract a diverse workforce of genetic and genomic specialists, as well as strategic partnerships and collaborations to raise the profile of Ireland as a leader in genetics and genomics on the world stage. 
Clinical Practice and Innovation: Ensuring the transition of advancements in genetics and genomics into healthcare services to optimize patient outcomes in a scientifically grounded, ethical, and equitable manner. 
Data and Infrastructure: Identifying priorities regarding the requirements for building upon and improving the country's current genetic infrastructure. 
Policy Communication and Engagement: Ensuring the public and patients are involved, the patient's voice is heard, and genetic and genomic literacy is improved. Reviewing the requirements for ensuring informed consent and the policy and legislative requirements. 
The strategy includes 5 priority themes: 
Priority Theme 1: Coordinating a National Approach to Genetics and Genomics

Priority Theme 2: Ensuring Patient and Public Involvement (PPI) and Partnership

Priority Theme 3: Building the Genetics and Genomics Workforce for the Future

Priority Theme 4: Enhancing Genetic and Genomic Clinical Services

Priority Theme 5: Strengthening Infrastructure to Drive Advances in Genetics and Genomics

 
Dr Derek Mitchell CEO of the Irish Platform for Patient Organisations, Science, and Industry (IPPOSI) shared insights into IPPOSI and the work it's done to try to understand what the Genomic Strategy means for the Irish Population. IPPOSI is a patient-led organization that collaborates with patients, scientists, and industry to prioritize the needs of patients in health innovation efforts. IPPOSI used a citizen jury as a tool for engaging citizens in a semi-structured dialogue to gain an understanding of Irish citizens' views on Ireland's Genomic Strategy. The jury functions similarly to a regular jury in a court of law; listening to witnesses, reviewing evidence, requesting additional information, and deliberating based on the facts available. 
3. Reforms
and Review to Inform the Strategic Direction of Laboratory Medicine 2023
The keynote address by Dr Colm Henry, Chief Clinical Officer, HSE, highlighted several insights on "Reforms and Review to Inform the Strategic Direction of Laboratory Medicine 2023", such as: 
The Reform Journey
Dr Henry emphasized the importance of standardizing care through medical leadership, using Sláintecare as a template for future care, and empowering patients. He also discussed the need for clinical reform through national healthcare strategies and programs, community program development, precision medicine, public health reform, and moulding and leading a workforce to support reform. As shared by Dr Henry, the path ahead includes: 
Regionalisation

 

Increased digital enablement

 

Patient involvement and participation

 

Defining the correct capacity for healthcare needs

.

 
Early Trends
Dr Henry highlighted changes in acute hospital utilisation, with a significant percentage increase in discharges per 100,000 population aged 16+ years from 2019 to 2022, indicating the need for strategic reforms in laboratory medicine. 
Modernisation of Scheduled Care Services
Dr Henry identified the hospital-centric approach as a problem, with increased waiting lists, limited capacity, and inappropriate delivery of low-complexity care in community settings. He proposed care pathways as a solution, which can increase capacity, improve patient flow, reduce waiting lists, deliver care at the lowest required level of complexity, improve patient outcomes, enhance the patient experience, promote patient safety, and increase efficiencies in service delivery. 
Digital Health
Dr Henry highlighted the positive outcome of the pandemic in fast-tracking healthcare digitisation targets, with robust data collection and advanced technology implementation. He emphasized the push towards remote access and monitoring, virtual outpatient engagements, and the use of wearable technology for remote patient monitoring, which can reduce travel time and enable patients to actively participate in managing their own health. 
Review to Inform the Strategic Direction of Laboratory Medicine 2023
Dr Henry outlined the purpose of the review, which is to inform the development of a strategic, integrated approach for laboratory services that will enhance future reform. The review will focus on four critical areas, including mapping out current services and structures, considering education and credentialing pathways for laboratory staff, reviewing scientific and technologically enabled advances in laboratory medicine, and considering relevant international models of care and lessons learned. 
Key Drivers for Change
Dr Henry identified several key drivers for change in laboratory medicine, including cancer care, maternity care, near-patient testing, chronic disease management, disease prevention, congenital and rare diseases, effective use of medication, monitoring of novel anticoagulation, and solid organ transplant. 
In summary, Dr Colm Henry's keynote address highlighted the need for strategic reforms in laboratory medicine, including standardising care, leveraging digital health, and modernising scheduled care services through care pathways. The review to inform the strategic direction of laboratory medicine in 2023 will focus on key areas to enhance future reform, and several drivers for change were identified, indicating the need for a strategic approach to laboratory services in the future. 
4. Kudos to Hardworking Medical Scientists
As we reflect on the challenges that the COVID-19 pandemic has brought upon us, it's important to acknowledge and appreciate the incredible efforts of medical scientists who have been at the forefront of the response. These dedicated professionals have worked tirelessly to combat the virus and save lives, showcasing their unwavering commitment to public health and patient care. 
Throughout the pandemic, medical scientists in Ireland worked tirelessly in laboratories, hospitals, and research facilities, conducting critical testing, analysing data, and developing innovative solutions to combat the virus. Their expertise and dedication have been instrumental in helping to diagnose COVID-19 cases, monitor the spread of the virus, and provide essential information for public health measures and policies. 
The sheer magnitude of the workload and the pressure faced by medical scientists during the pandemic cannot be overstated. They put in long hours, often working under challenging conditions, to deliver accurate and timely results. Their professionalism, perseverance, and unwavering commitment to their work is highly commendable. 
In addition to their crucial role in COVID-19 testing, medical scientists have also been involved in research efforts to understand the virus, its variants, and its impact on different populations. Their contributions to the development of vaccines, treatments, and other therapeutic interventions have been pivotal in the fight against the pandemic. 
Despite the risks and challenges, they faced, medical scientists in Ireland have shown incredible resilience and dedication to their profession. Their expertise, professionalism, and tireless efforts have undoubtedly saved lives and helped to curb the spread of COVID-19. 
It's important to express our deepest appreciation and gratitude to the hardworking medical scientists in Ireland who continue to work diligently to protect public health and save lives. Their contributions are truly commendable, and they deserve our utmost respect and admiration for their unwavering commitment to the health and well-being of our communities. 
5. NVRL Emerging Viral Infections
Emerging viral infections pose unique challenges in diagnostics, as highlighted by Dr Jeff Donnell's presentation. One notable example is the unusually high number of reports of acute hepatitis cases in children from England, Scotland, and Wales during Q1 of 2022, without detection of hepatitis viruses A-E, and with no known travel association. This clinical syndrome presents as severe acute hepatitis with markedly elevated transaminases, often accompanied by jaundice and gastrointestinal symptoms, affecting children up to 13 years of age. In some cases, transfer to specialist children's liver units and even liver transplantation may be required. 
In August 2022, Irish data revealed 28 probable cases of severe acute hepatitis of unknown aetiology, with evidence of: 
Human adenovirus (HAdV) in 52% of cases

 

AAV2 in 63.6% of cases

Reports of current or past SARS-CoV-2 infection in 60% of cases

 
This highlights the complex nature of emerging viral infections and the need for comprehensive diagnostic investigations. 
The diagnostic investigation for emerging viral infections involves three main elements:  
Virus risk assessment

 

Sample type and precautions

Laboratory risk assessment. 

 
This includes communication at global and national levels, coordination among laboratory networks such as EVDLabNet, adherence to ECDC/WHO guidance, and national policies based on evidence, such as inactivated (lysis) swabs PCR versus SARS-CoV-2 Ag tests. IT systems for results and communications, as well as the ability to respond and adapt quickly to emerging evidence through pandemic plans, are crucial.  
Emerging viral infections present diagnostic challenges that require a multidimensional approach, including risk assessment, communication, coordination, and adaptability based on evolving evidence. Staying vigilant and proactive in diagnostics is crucial for effectively managing and containing emerging viral infections. 
6. Staff Challenges: Retaining & Recruiting Medical Scientists
A panel discussion made up of laboratory managers, and Key HSE personnel discussed and shared facts, their experience and opinions, and explored solutions to the crisis of recruitment and retention of medical scientists chaired by Sinéad Creagh, Laboratory Manager, Cork University Hospital.  
The session was moderated by Anne Nee, Facilitator, Mediator, Workplace Investigator and Conflict Coach, formally the Employee Relations Manager in the HSE Southeast. Panellists included Karin Jackson, CEO, Northern Ireland Blood Transfusion Service and Director of the NI Pathology Blueprint Programme, Eithne Fox, Assistant National Director of HR, HSE, Paudy O'Gorman, Laboratory Manager, Mater Misericordiae University Hospital and Clíona O'Shea, Medical Scientist, Microbiology, CHI@Crumlin. 
The COVID-19 pandemic has highlighted the crucial role of medical scientists in Ireland in the fight against the virus. However, amidst the ongoing challenges, the field of medical science has also faced significant staff challenges, particularly in retaining and recruiting skilled professionals. Let's take a closer look at some of the obstacles faced in retaining and recruiting medical scientists in Ireland. 
Shortage of Skilled Professionals: Medical science is a specialized field that requires a high level of expertise and knowledge. However, there has been a shortage of skilled medical scientists in Ireland, which has made it challenging for healthcare facilities to retain and recruit qualified staff. This shortage has been further exacerbated by the increased demand for medical scientists during the pandemic, leading to increased competition for skilled professionals. 
Workload and Burnout: The pandemic has resulted in an overwhelming workload for medical scientists, with long hours and increased pressure to deliver results quickly. This heavy workload has led to burnout and fatigue among medical scientists, which can affect their job satisfaction and retention.  
Financial Constraints: Financial constraints have also posed challenges in retaining and recruiting medical scientists in Ireland. Budget limitations and resource constraints in healthcare facilities can impact the ability to offer competitive salaries and benefits, which can affect the recruitment and retention of skilled professionals. This can also result in medical scientists seeking better financial opportunities in other countries or fields, leading to a loss of talent in the local workforce. 
Professional Development Opportunities: Medical scientists, like any other professionals, thrive on continuous learning and professional development. However, limited opportunities for career advancement and professional growth can impact the retention and recruitment of medical scientists. The lack of access to training programs, workshops, and other developmental opportunities can make it challenging to retain and attract skilled professionals. 
Impact of COVID-19: The ongoing pandemic has had a significant impact on the healthcare industry, including medical science. The increased workload, stress, and risks associated with working in a pandemic environment may have led to some medical scientists reconsidering their career choices or seeking opportunities in other fields. The uncertainty and volatility of the pandemic situation may also have affected the recruitment of new medical scientists, with some potential candidates being hesitant to join the field during these uncertain times. 
Work-Life Balance: Achieving a healthy work-life balance is crucial for overall job satisfaction and retention. However, the demands of the pandemic and the nature of medical science work, which may involve irregular hours, on-call duties, and high levels of stress, can impact the work-life balance for medical scientists. Difficulty in maintaining a healthy work-life balance can affect job satisfaction and retention of medical scientists. 
There's no denying that retaining and recruiting medical scientists in Ireland has been fraught with the many challenges described above. Addressing these challenges and creating a supportive environment for medical scientists can be crucial in retaining and attracting skilled professionals to continue their valuable contributions in the field of medical science, especially during challenging times like the COVID-19 pandemic. 
7. The Importance of a Patient-Centred Ethos
As healthcare professionals, medical scientists play a crucial role in patient care, with patient results serving as a critical component of the diagnostic and treatment process. A patient-centred ethos, which prioritises effective communication of patient results and seamless integration of results for comprehensive patient care, is of utmost importance. Let's delve deeper into why a patient-centred ethos is essential in the field of medical science.  
A Sample Represents a Patient: Behind every sample that medical scientists analyse is a patient – A person who is seeking answers, guidance, and care. It's important to remember that each sample represents a real human being with unique healthcare needs and concerns. A patient-centred ethos recognises the importance of treating every sample with care, accuracy, and empathy and communicating the results in a clear and compassionate manner. By valuing the human element behind each sample, medical scientists can foster trust, empathy, and understanding with patients, which can contribute to better patient satisfaction and outcomes. 
Importance of Communicating Patient Results: Accurate and timely communication of patient results is crucial in the diagnostic and treatment process. Medical scientists are responsible for analysing and interpreting laboratory results and conveying the findings to the relevant healthcare providers. Importance of Quality Assurance and Quality Control: Patient-centered care also requires a strong emphasis on quality assurance and quality control in the laboratory setting. Medical scientists are responsible for ensuring that laboratory testing processes are accurate, reliable, and meet the highest standards of quality. This involves adhering to established protocols, maintaining proper documentation, conducting regular quality control checks, and participating in proficiency testing programs. High-quality laboratory testing is crucial for producing accurate and reliable patient results, which are essential for informed decision-making and optimal patient care. 
A patient-centred ethos is of paramount importance in the field of medical science. It emphasises the importance of valuing each sample as representing a patient, effectively communicating patient results, integrating results for seamless patient care, and maintaining high standards of quality assurance and quality control. By prioritising a patient-centred approach, medical scientists can contribute to improved patient satisfaction, better clinical outcomes, and overall enhanced patient care. 
BioMedica

2023

:

Networking Opportunities
Networking is a crucial aspect of any conference, and BioMedica 2023 provided ample opportunities for networking. We had the chance to connect with colleagues, customers, healthcare professionals, researchers, and industry leaders from diverse backgrounds. We left the conference with valuable insights and a chance to connect with both new and familiar faces. BioMedica 2023 is a worthwhile biomedical conference, and it was great to be back meeting with everyone in-person and we're looking forward to the next one already!