3 Key Takeaways from the National Office of Clinical Audit (NOCA) 2023 Audit Matters Conference
The National Office of Clinical Audit held its annual conference, 'Audit Matters', at the Royal College of Surgeons of Ireland, Dublin on January 31st. The conference was attended by a diverse group of individuals, including healthcare professionals, clinical auditors, and industry experts. The event provided a platform for attendees to discuss the latest developments in clinical audit, exchange ideas, and network with their peers. 
The conference was opened by a keynote speech from Collette Tully in the field of clinical audit, who spoke about the Audit Impact Report 2023 and the importance of auditing in improving patient care and outcomes. This was followed by a series of informative and engaging presentations by experts in their respective fields. The presentations covered a range of topics, including the latest audit methods, the use of technology in clinical audit, and the challenges faced by clinical auditors.  
 The Number of ICU Admissions included in the audit by year as recorded by DMF Systems' ICU Clinical Audit System: 
| | | |
| --- | --- | --- |
| Year | Hospitals complying with ICU access KPI (50% of patients should be admitted to ICU within 1 hour of a decision to admit) | Hospitals complying with ICU access KPI (80% of patients should be admitted to ICU within 4 hours of a decision to admit) |
| 2019 | 0% | 36% |
| 2020 | 0% | 47% |
DMF Systems developed the ICU-BIS (Intensive Care Unit – Bed Information System), which provides clinicians with direct access to live information on ICU bed capacity across Ireland. The ICU-BIS provides vital information and supports decision-making when there's a need to transfer a patient to another ICU or Critical Care Unit. ICU-BIS went live at the beginning of the pandemic and furnished healthcare providers with essential information on ICU bed capacity. For example, ICU-BIS provided data on pregnant women coming into ICU with COVID which contributed to an important, national vaccination campaign aimed at pregnant women.  
Tully concluded her talk with NOCA's next steps which are to: 
Clinically Audit the Best Practice Guidance

 

Develop a Clinical Audit Toolkit

 
National Clinical Audit Commissioning and Decommissioning

 

Strategize the Clinical Audit

 

Policy for the Clinical Audit

 

Engagement with Colleges

 

Forum for National Clinical Audit

 
Insights from Speakers at the NOCA Clinical Audit Conference
Quality and Patient Safety – HSE National Centre for Clinical Audit
Dr. Orla Healy, National Clinical Director of Quality and Patient Safety, HSE, spoke on quality and patient safety, as well as the HSE's role and purpose in auditing. During this session, we learned about the five fundamental pillars of the HSE Clinical Audit: 
National Governance for Clinical Audit

 

Local Governance for Clinical Audit

 

Clinical Audit Education and Training

 

Clinical Audit Education and Resources

 

Legislative Changes

 
Dr Healy also shared the results of a survey to healthcare providers with their thoughts on the barriers to Clinical Audit, the results were as follows: 
Time – 83%

 

Resources – people – (30%)

 

Resources – funding – (11%)

 
Staff engagement/apathy – 50%

 

Training – 33%

 

Lack of formal standards – 22%

 

Implementation of change doesn't happen – 26%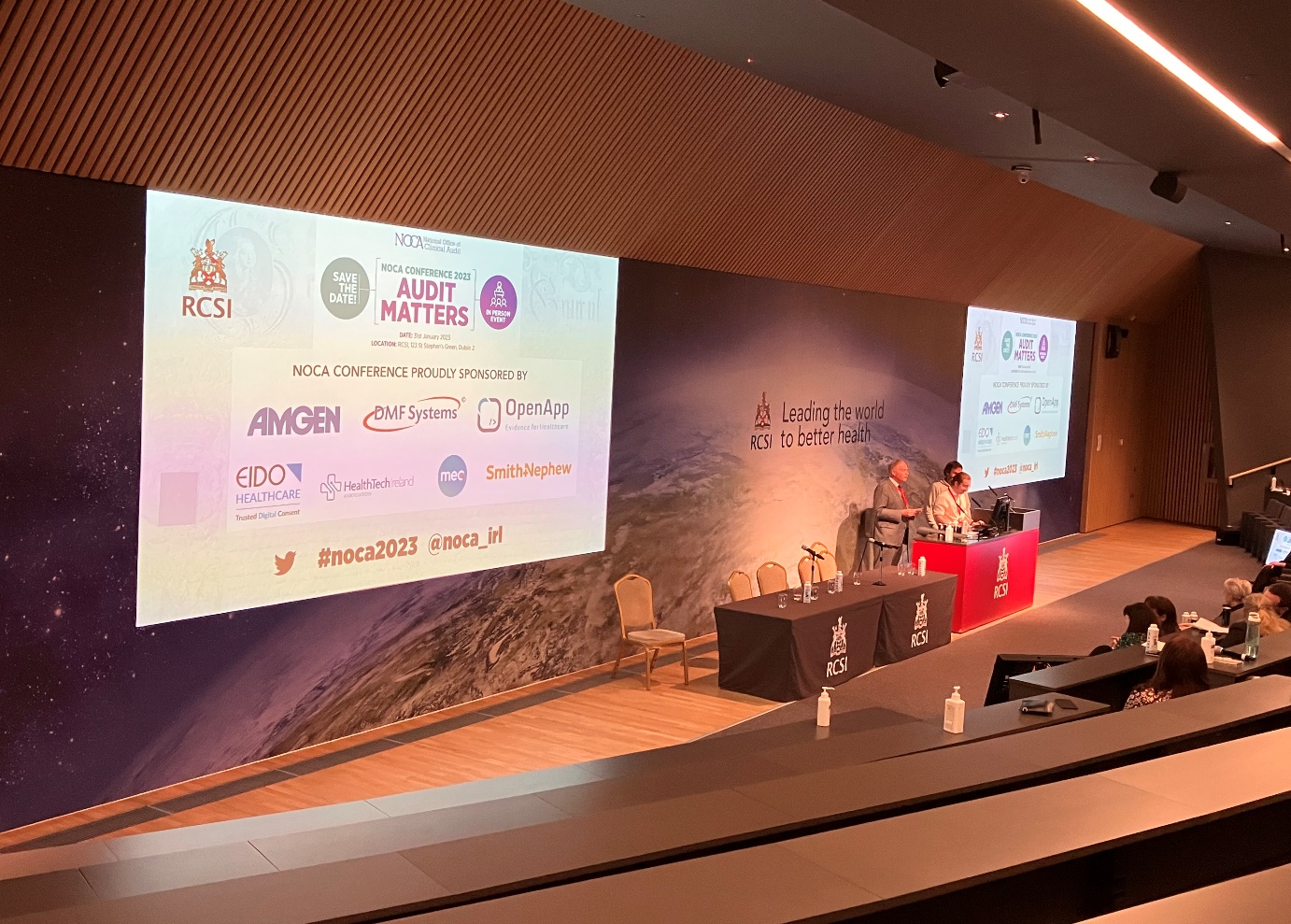 HSE Rollout of Individual Health Identifier (IHI) – It's Happening 
Maria McCann, Organizational Psychologist and Director of Health Identity Management Services, discussed the HSE's Individual Health Identifier Rollout (IHI). The presentation started off with a quote that stated 'Digital Health is not a computer science or an engineering science. It is a Social and Behavioural Science' before McCann dove into a very informative session on all things IHI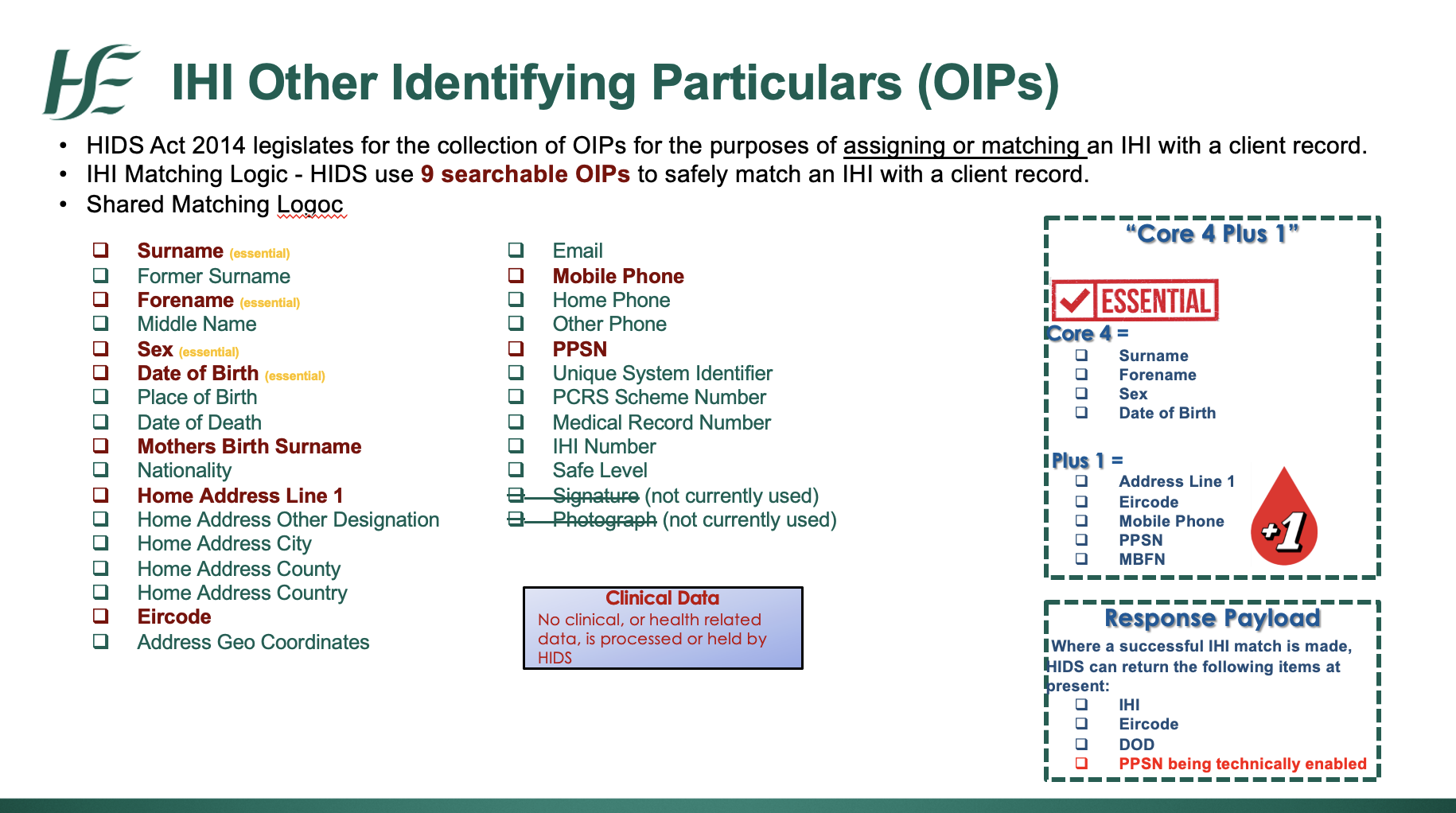 The session provided a good overview of the timeline of the implementation of the IHI, and the work done to date in terms of legislation, standards and governance.  The presentation also explained the Health Management Solution Sets which will provide operational supports to the three broad product groups i.e., Identity Management, Data Quality Enhancement, Corporate and Cross Government Collaboration. While identity management includes key components such as Governance and Legislation, Compliance & Audit and Engagement, it is all underpinned by a TRUST framework. McCann mentioned the four C's that are involved in creating the TRUST framework: Cohesion, Clarity, Communication and Compliance.  
The session also explored the benefits, format and data items which will be included in the IHI along with outlining exactly what is an IHI? The Individual Health Identifier (IHI) is a number that: 
Uniquely and safely identifies each person who uses a health service.

 

Lasts for the lifetime of the individual, is uniquely assigned and will never be allocated to anyone else.

 

Will enable the association of a service user's healthcare records from different health systems improving patient safety, efficiency and protecting the patient's privacy.

 

Will allow Healthcare Practitioners to provide healthcare services to individuals supported by the mechanism to accurately associate service users with their records and communications, and enable the safe transfer of service user records electronically.

 
Health Information Bill and Summary Care Record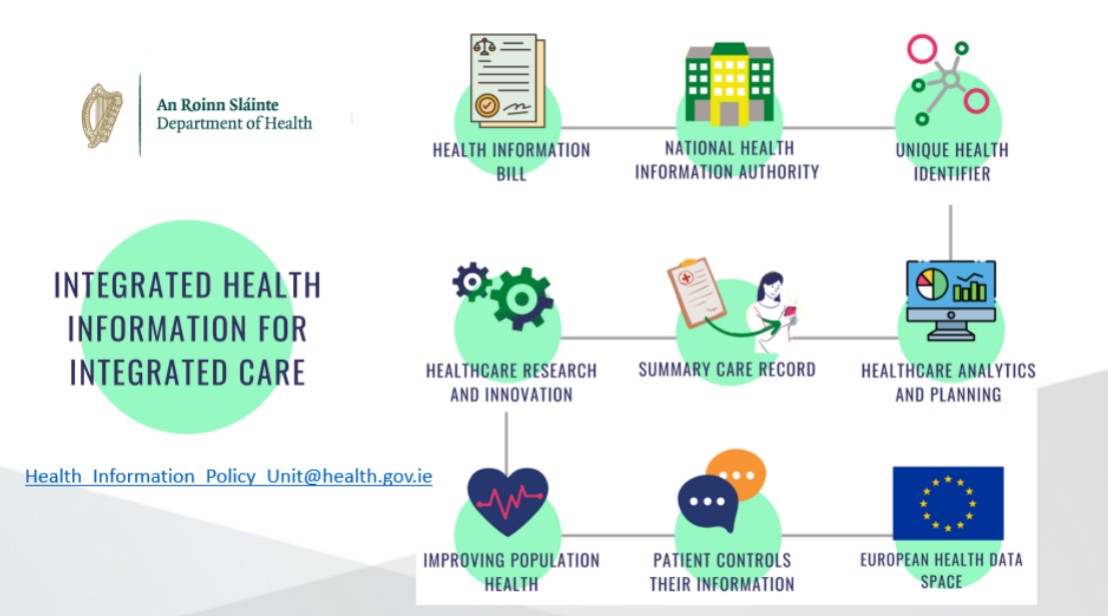 Muiris O Connor, Head of R&D and Health Analytics, from the Department of Health, presented on the topic 'Integrated Health Information for Integrated Care.  The Health Information Bill will essentially be provided for a clear legal basis for sharing the specified health information and will also roll out the Summary Care Records for everyone in Ireland, he said. This Health Information Bill will also allow the establishment of the National Health Information Authority (NHIA). In this process, the main component will be the PPSN of the residents being the unique identifier because the health system is part of the wider public service ecosystem and wider health-related societal services and activity.  
While in the summary care record, a patient moves between healthcare settings on an opt-out model and it will contain information such as personal details, contact information, key clinical outcomes, allergy-related details, vaccination history and in time, information on prescriptions.  
A Patient Perspective as noted on agenda: 
Fiona Fallon, who spoke about her own daughter's experience with Congenital Heart Defects, captured everyone's attention. In the presentation, Fallon had many suggestions for improving the patient experience such as: 
Providing more ICU nurses and beds

 

Finding ways to retain staff in ICU

 

Establishing a registry of ICU patient outcomes

 
Providing multidisciplinary post-operative support nationally

 

Providing home support for caregivers following ICU, as well as psychological support after ICU

 
Fallon received a standing ovation for her brave presentation on her experience, aptly noting: 'When the patient is a child, the family is the patient'.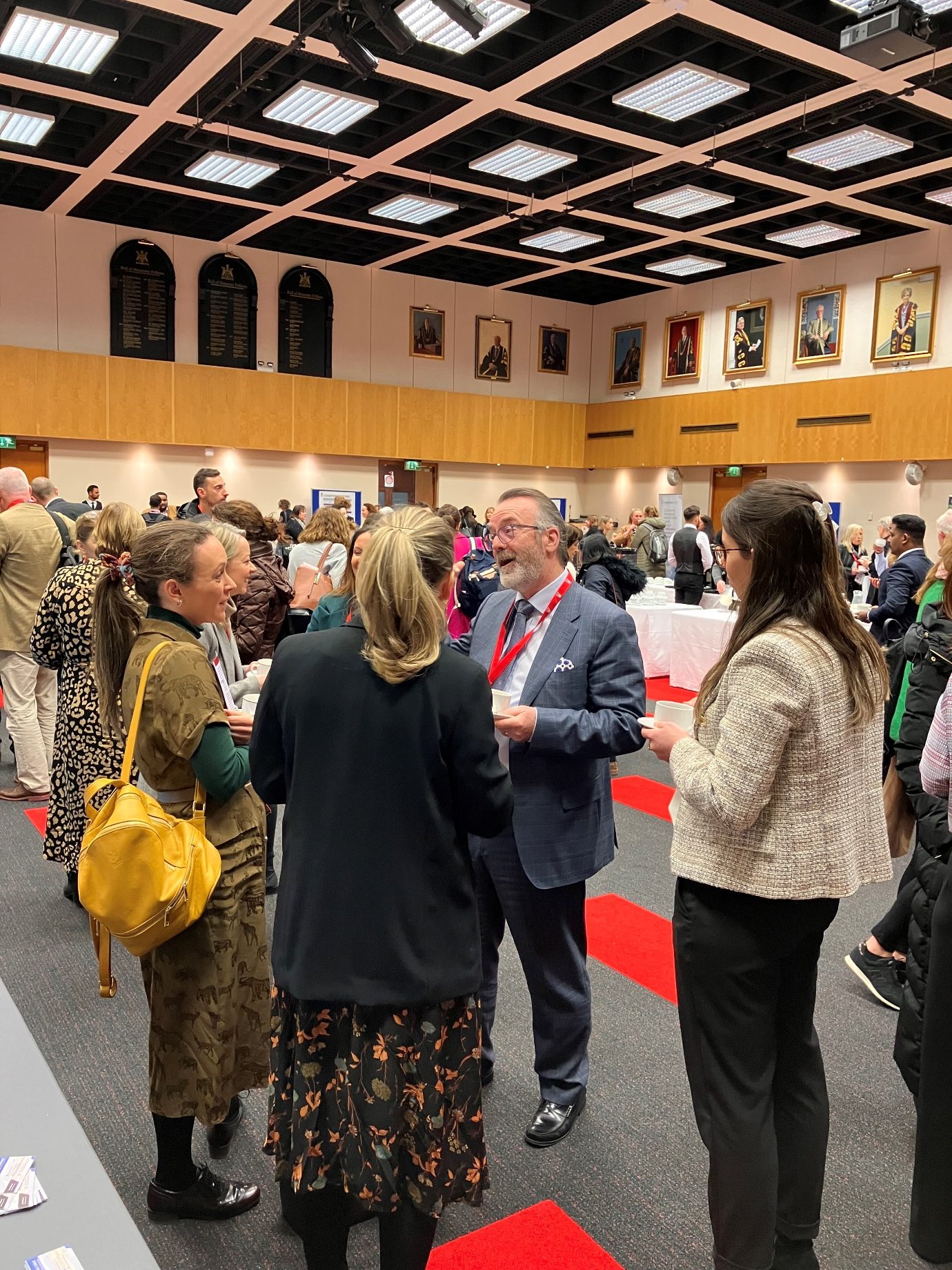 Academic Speakers at NOCA Clinical Audit Conference 2023
Prof. and Dr Eamon O' Shea, spoke on 'Creating and Maintaining Excellence in Clinical Audit: Lessons from Elite Sport,' and Prof. and Dr Chris Fitzpatrick, spoke about his own medical path with a poetic touch. 
Prof. Eamon O' Shea gave a thought-provoking account on sports performance coaching, and how many principles about high performance under pressure and insights on leadership can also apply to healthcare workers.  Some of the key takeaways from the presentation are as follows:  
Develop the vision and believe in what you do – Having a clear vision and believing in yourself is essential for creating and sustaining excellence. Knowing what you want to achieve and striving for it with full confidence makes all the difference.

 

Do the small things right- culture, skills, learning, development, measurement – They add up to the whole – Each and every small step you take towards creating the best environment for your team is important. Pay attention to the culture and environment, develop the right skills, offer learning opportunities, and measure the results to see if any improvements are needed. 

 

Develop and support thinkers and leaders in your group – To foster excellence in a team, develop and support thinkers and leaders in your group. Mentor, guide and encourage them to come up with innovative ideas and provide the resources and support they need to implement them. 

 
Never fear failure – it's part of the job and part of life – Failing is part of life. Don't be afraid to make mistakes but learn from them and use them to your benefit.

 

Learn, reset, reboot and go again – In order to keep up with an ever-changing landscape, you have to constantly be learning and adapting. Even if you make a mistake, the important thing is to reset, reboot and go again.

 

Luck gives and takes over a lifetime – Stay standing long enough to test that theory – Although luck plays an important role, it's not the only factor. You must work hard and stay persistent if you want to succeed. Learn to recognize and utilize different opportunities and stay consistent if you want to experience the benefits of luck over a lifetime. 

 
By following these pointers, you can create and maintain excellence in clinical audit. It is important to recognize that success does not come overnight, and that continuous effort and dedication are essential for achieving the best results. 
Pro. O'Shea shares a thought-provoking quote, "……What I observe, is that the good teams and the coaches who manage the best teams, they don't abandon their style in adversity, but they correct it, they better it, "Marco Biesla 'Philosopher' and Argentinian football manager. 
NOCA Quality Improvement Champions
On the afternoon session, NOCA organized final presentations for the 'NOCA Quality Improvement Champion Award 2023 '. There were 3 finalists. The winners from National Maternity Hospital, Dr. Sarah Ahmed presented on improving the "Sips Til Section" process  and two runners up, Tallaght University Hospital and St. James Hospital presented on "Improving detection of Aortic Dissection" and "Reducing Delays in Unplanned Admissions to the ICU" respectively. 
3 Key Takeaways from the NOCA 2023 conference 
Unique Identifier for everyone in Ireland is an important component for revolutionizing healthcare in Ireland. While the Unique Identifier will enable the association of a service user's healthcare records from different health systems improving patient safety, efficiency, and protecting patient privacy, it will also allow Healthcare Practitioners to accurately associate service users with their records and communications, and enable the safe transfer of service user records electronically. Kudos to

Maria McCann

and the team at the IHI.

 

The Importance of Patient Feedback – Fionna and Anna's narrative clearly demonstrated the necessity for hospitals to significantly increase the number of ICUs and beds in order to best support the excellent care being delivered. Additional essential ideas to acquire directly from service users include psychological assistance for people discharged from ICUs, a higher number of home support carers for those from post-ICU, and finding different approaches to retain staff nurses in ICU.

 

Importance of Leadership and Team Cohesion – Prof. Eamon O Shea's talk reflects on the fact that 'whether it's sport or a healthcare setting, the principals are the same'. Creating and maintaining excellence in clinical auditing may be achieved by having a clear goal, implementing things in small batches, supporting the thinkers and leaders in a group, and never fearing failure. It is critical to understand that success does not happen quickly and that consistent effort and attention are required to achieve the finest outcomes.

 
DMF Systems- NOCA Clinical Audit Event Sponsor
As one of the event sponsors, DMF Systems showcased the latest upgrade to the ICU Clinical Audit System, which enables Hospitals to collect, validate and securely transfer data to the Intensive Care National Audit and Research Centre (ICNARC) in the UK. ICNARC validate the data and return benchmarked reports to the Units and NOCA. These reports, on ICU activity and quality of care, are internationally benchmarked with units of a similar size and Casemix.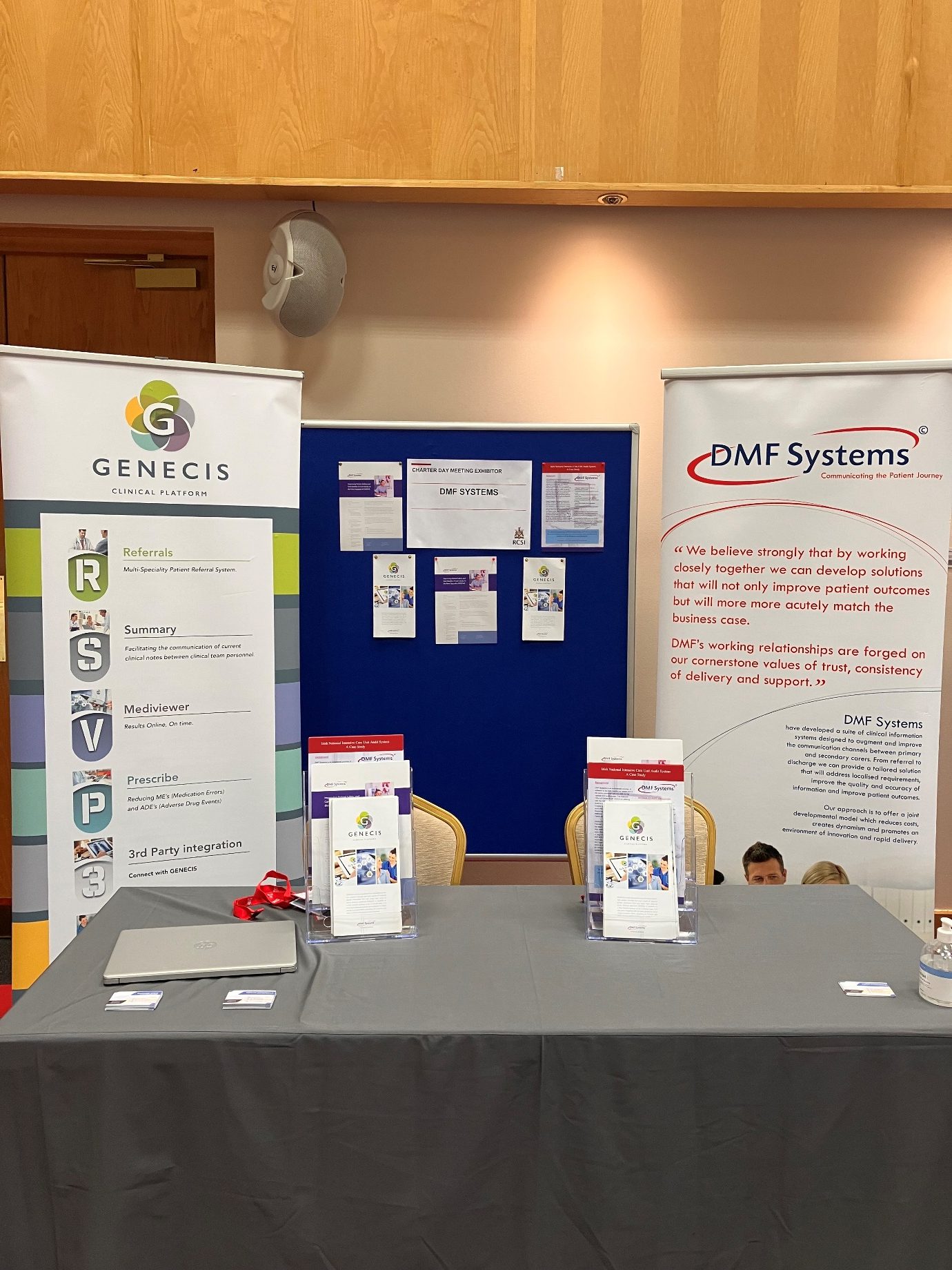 The conference provided a fantastic opportunity for attendees to network and make valuable connections. During breaks and at the networking reception, attendees had the chance to engage with each other and discuss the topics that were covered during the conference. 
In conclusion, the National Office of Clinical Audit's conference on Audit Matters was a huge success. The event provided a platform for attendees to learn about the latest developments in clinical audit, exchange ideas, and network with their peers. We would like to thank the National Office of Clinical Audit for organizing such a wonderful event and we look forward to attending next year's conference.