ISO 9001:2015 Quality Management System
We are delighted to confirm that DMF Systems have successfully retained the ISO 9001:2015 certification for our Quality Management System. DMF Systems were independently assessed prior to being awarded the internationally recognised standard. The news also means that we have successfully retained our ISO 9001 certification each year since first being awarded the certification in 2005. Our continuing goal to maintain ISO certification is a demonstration of our commitment to provide software services that meets                   customers and applicable statutory and regulatory requirements.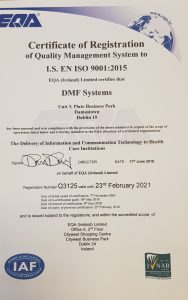 What is ISO 9001:2015 Certification?
"To provide products and services that meet customer and applicable statutory and regulatory requirements, and
Aims to enhance customer satisfaction through the effective application of the system, including processes for improvement of the system and the assurance of conformity to customer and applicable statutory and regulatory requirements".
What does ISO 9001:2015 mean to DMF Systems and our customers?
DMF systems provide a complete range of ICT services to 90% of Hospitals and other Healthcare facilities in Ireland and are actively engaged with the UK healthcare market. We constantly work to enhance and improve our software for care providers; we develop our products and services, in conjunction with the clinicians that use our solutions. We have maintained ISO accreditation for the past 14 years, we can assure our clients that we have adopted industry best practice and deliver solutions that adhere to worldwide recognised standards.
To make sure our products are working to the optimum efficiency we provide world class customer support. At DMF systems Agile and lean methodologies are adopted to improve product development, software implementation and support services.  We guarantee consistency and efficiency of service delivery to our clients. Our teams are focused on quality, dignity and fairness in the workplace for both staff and clients.
At DMF systems we also focus on communication and collaboration. We endeavor to grow each and every team member with our commitment to continuous training and education. Where appropriate we facilitate research participation; building healthcare software solutions and skilled resources for now and for the future.
References:
https://www.iso.org/standard/62085.html