Health and Social Care Professionals Electronic Patient Record.
Health and Social Care Professionals (HSCP's) are the third largest professional group in both the HSE and the NHS. HSCP's play a vital role within primary, secondary and acute care delivering preventative services, public health services and integrated out-of-hospital care for patients.
HSCP's work revolves around helping patients towards independence and recovery, where possible avoiding the need for surgical procedures. This helps to optimise the health organisations overall resource utilisation, potentially reducing cost and saving Time.
Currently there is an interest in improving the co-ordination between different HSCP's disciplines and thereby increase the capacity of organisations to maintain and improve the delivery of high-quality health and social care.
According to the AHP's into action framework (NHS, 2017), one of the greatest challenges posed for AHP's Managers is to explain the variation in the service quality and workforce efficiency. Healthcare facilities may address these issues through the use of an integrated informatics solutions (Inter-AHP Suite) where HSCP's can record and share all the data on patient treatment including time taken to deliver treatment and time taken on all non-direct patient and group activities. This provides Health and Social Care Professionals and Hospital Managers and clinicians with improved insight around the complexities of care delivery issues. By analysing and sharing data in a controlled manner, organisations may benefit from an improved insight into how complex issues are managed. The clinical notes recorded by AHP's will lead to an improved understanding of potential areas of risk, which in turn will help improve co-ordination and help respond to issues better, faster and in a more integrated manner. According to the HSCP (2017), with the help of readily available electronic records, Healthcare facilities can use the information for the management of service risks, research, audit and Quality Improvements purposes.
What is DMF systems Inter AHP suite?
Inter-AHP is a fully Integrated suite of Allied Health professional information management modules designed in conjunction with Ireland's  HSCP's.
The Inter-AHP suite is the Allied health professionals Electronic Patient Record. It's a knowledge base of allied health clinical data including: Diagnosis, Treatment plans & Treatment outcomes for your patients. Departmental resource and utilisation are captured and available for management reporting.
Why implement the Inter AHP suite?
Improved quality care for patients provided through secure access for HSCP's and secure, authenticated sharing of information with required Clinical Users.
Enhance the efficiency of the Health and Social Care Professionals by automating the capture of resource utilisation; delivering the efficiencies of a fully Electronic Allied Health Patient knowledge base, accessible through business intelligence tools and analytics.
Improve HSCP's resource utilisation and treatment planning through intuitive reporting at specialty, Location and Clinician level
Simplify clinical data management and recording
Allied health professionals may record all the patient episodes and visit details  such as treatment plans, assessments, out-come measures, equipment used during the treatment, equipment given to patients during treatments and information on splints and scares.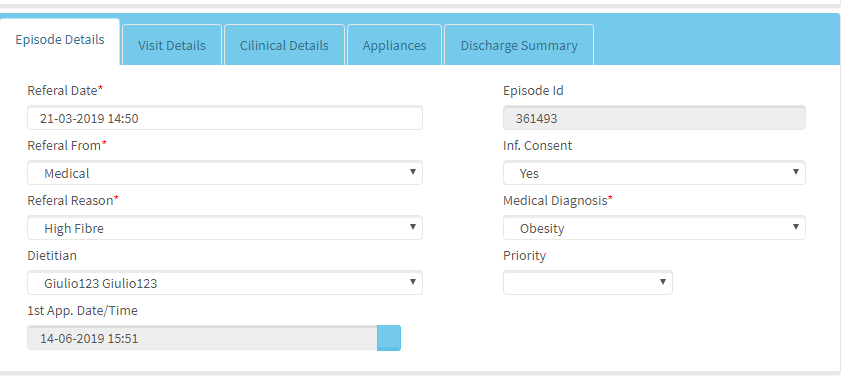 Can Health and Social Care Professionals share patient data securely?
Yes, The Multi-Disciplinary Inter-AHP case management software structure (Patient, Episode and Visit) allows AHP's to securely manage and share patient data. The complete treatment record (or specific components) are available to share with appropriate care givers, enabling them to access the required patient care records through a single intuitive integrated solution.

What are the benefits of Inter-AHP suite?
Inter-AHP suite is designed for Allied Health Professionals to deliver evidence based/informed practice to address variances in service quality and efficiency. With the Inter-AHP suite Health and Social Care Professionals can manage and track patient Episodes and Visits. The Inter-AHP suite holds patient's key treatment and episodic information and makes it available to authorised users on any device at any time. The software is easy to use, intuitive and steps through the patient treatment process to assist with record keeping.
Is inter-AHP in line with the NHS five-year plan?
DMF Systems Inter-AHP is a tool that supports NHS 'Right care approach' to assure the delivery of compassionate, effective, safe, sustainable high-quality patient care.
The system allows HSCP's easily record the Patient's treatment, Medication, Treatment outcome and details of all appliances provided to the patient. The system also supports the tracking and management of direct and indirect patient care including Group sessions, Staff and Patient Training sessions.
What devices can we use to access the inter-AHP suite?
DMF Systems Inter-AHP is designed to help Allied health professionals record and access data anytime anywhere through any authenticated device. The Inter-AHP suite are accessible on any form factor workstations Computers, Laptops, Tablets and mobile phone.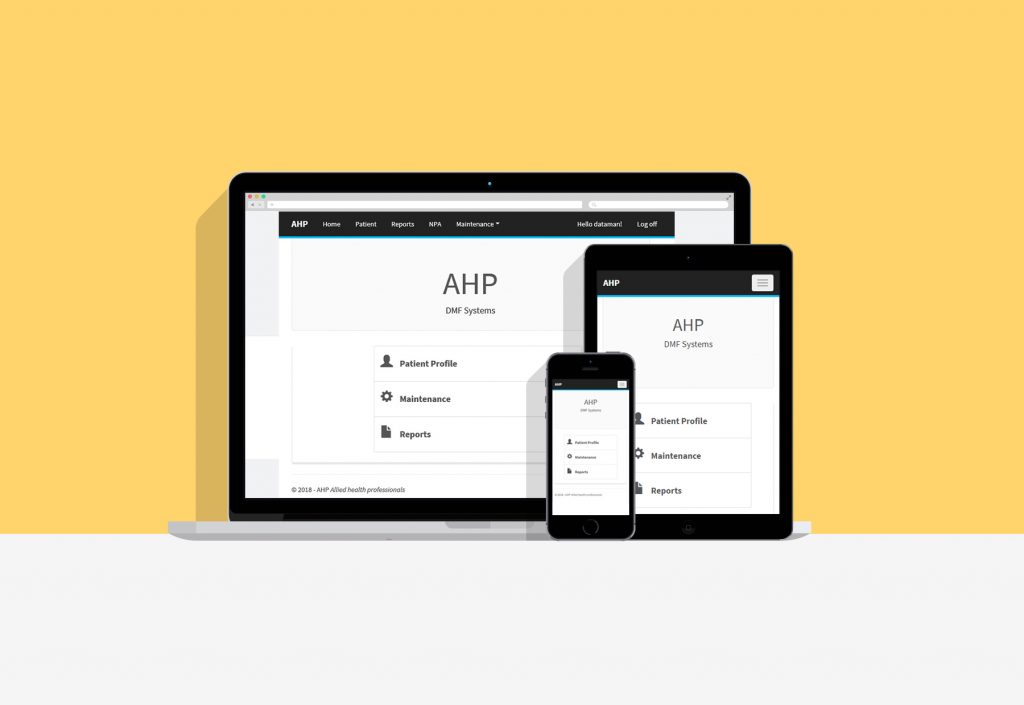 Is Inter-AHP suite available on a modular basis?
Yes, Currently DMF systems support 7 Allied health modules. Physiotherapy, Occupational Therapy, Nutrition and dietetics, Special diets, Speech and language therapy, Social work and Sleep lab.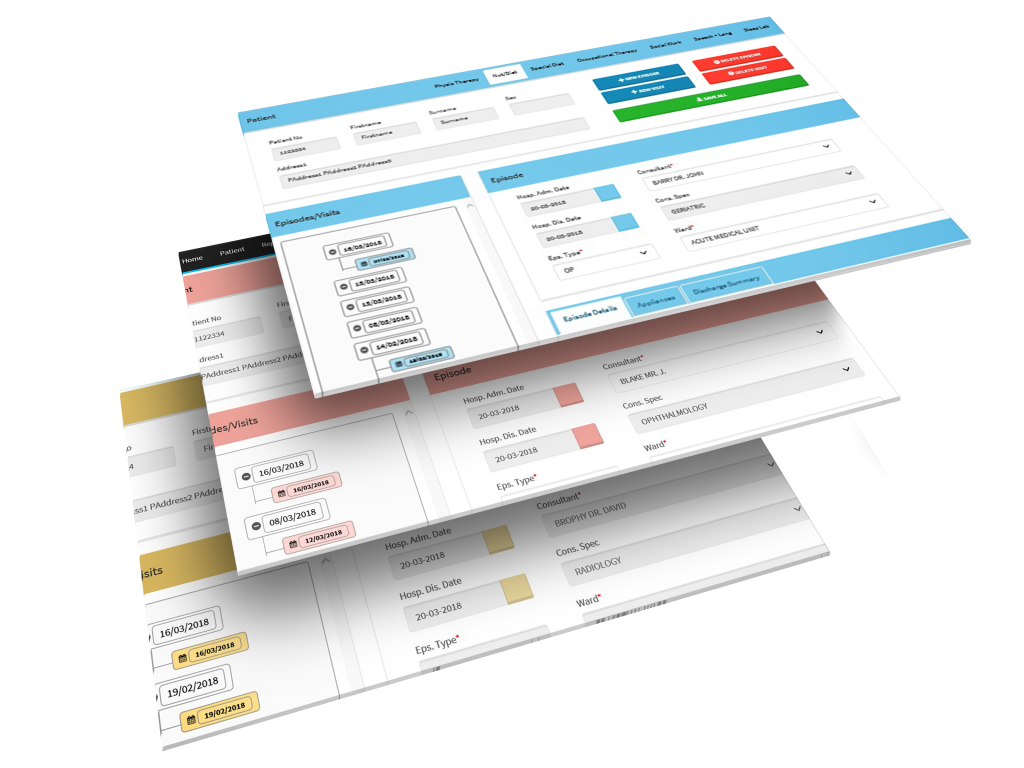 What hospitals are using DMF Systems Inter-AHP suite ?
Inter-AHP suite  is currently deployed in St. Vincent's University Hospital, Clontarf Hospital and Children's University Hospital
Is Inter-AHP suite available as Software as service
Yes. And it is available on Crown Commercial Services Digital Marketplace– G-Cloud
What are the server requirements for Inter-AHP web application suite?
Application server: – Windows Server 2012 & Windows Server 2014
IIS Manager 6 or above
.NET 4.5.2 Framework
Database server:  Microsoft SQL Server 2012, 2014;
Client PC: – Windows 7, 8, 8.1,10; INTERNET EXPLORER 11 and above.
Please Click below to see how Inter-AHP suite  could streamline HSCP's Work Flow.
https://dmfsystems.ie/products/allied-health-professionals/
References:
https://www.hse.ie/eng/about/who/cspd/health-and-social-care-professionals/
https://improvement.nhs.uk/documents/2485/AHPs_supporting_patient_flow_FINAL_.pdf
https://www.digitalmarketplace.service.gov.uk/g-cloud/search