Allied Health Professionals Suite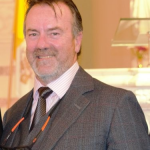 Inter-AHP – Allied Health Professionals' Clinical notes supporting Integrated Patient Care.
The Importance of Inter-AHP Electronic Health Records in supporting integrated care?
Electronic Health Records are considered the cornerstone of a National and International eHealth strategy. So, what is the importance of adopting EHR apart from going 'paperless' or saving money or having access to patient record at the point of care?
The essential clinical benefit is to attain:
Effective patient flow which can be only achieved by effective Clinical communication between Nurses, Doctors and Allied Health Professionals.
Delivering evidence based and informed practice to address variances in service quality to ensure efficiency, effectiveness and the best possible treatment outcomes.
Reducing the hospital bed shortage crisis.
The importance of Allied Health Professionals Clinical notes:
AHP's can significantly improve quality, effectiveness and productivity across the patient care pathways. According to the NHS (2018), Allied Health reports, the clinical notes of Allied Health Professionals significantly contributes towards the effective communication between all the disciplines that provide patient care. This is essential for continuous care and patient safety.
A breakdown in the transfer of clinical information between health professionals has contributed to medication errors, unsafe work practices, increased length of hospital stay, increased risk of hospital readmission, patient injuries, disability and death (NHS, 2018; Amarasingham et al., 2013). 
AHP's can significantly improve quality, effectiveness and productivity across care pathways.                          
In the hospital setting, the role of improving health care delivery and effectiveness is shared across all health professions with the common aim of successful treatment outcomes, appropriate discharge management and reduced re-admissions.
AHPs can lead care coordination, particularly for patients with multiple co-morbidities. According to Westbrook et al., 2011 understanding and sharing Allied Health clinical notes ensured an effective multidisciplinary team approach. An example of this is the relationship between managing swallowing difficulties by speech pathologists and recommending nutritional supplements by dietitians. The close relationship between some Allied Health professions, such as audiology and speech pathology, has resulted in documentation being developed collaboratively.
"The structured format of Allied Health professions' notes allowed clinicians to swiftly locate key information; discard irrelevant information and locate the relevant information across multiple entries" (Westbrook et al, 2011).
Structured note formatting has been shown to provide for superior quality data, significantly more complete records (Phillips, Stiller, & Williams, 2006) and serves as a prompt to provide additional information (Carlsson, Ehnfors, & Ehrenberg, 2010).
The Multi-Disciplinary Inter-AHP case management structure (Patient, Episode and Visit) allows AHP's to securely manage and share patient data in a controlled manner. The complete treatment record is available to share with appropriate care givers, enabling them to access the complete AHP patient care records through a single intuitive integrated system.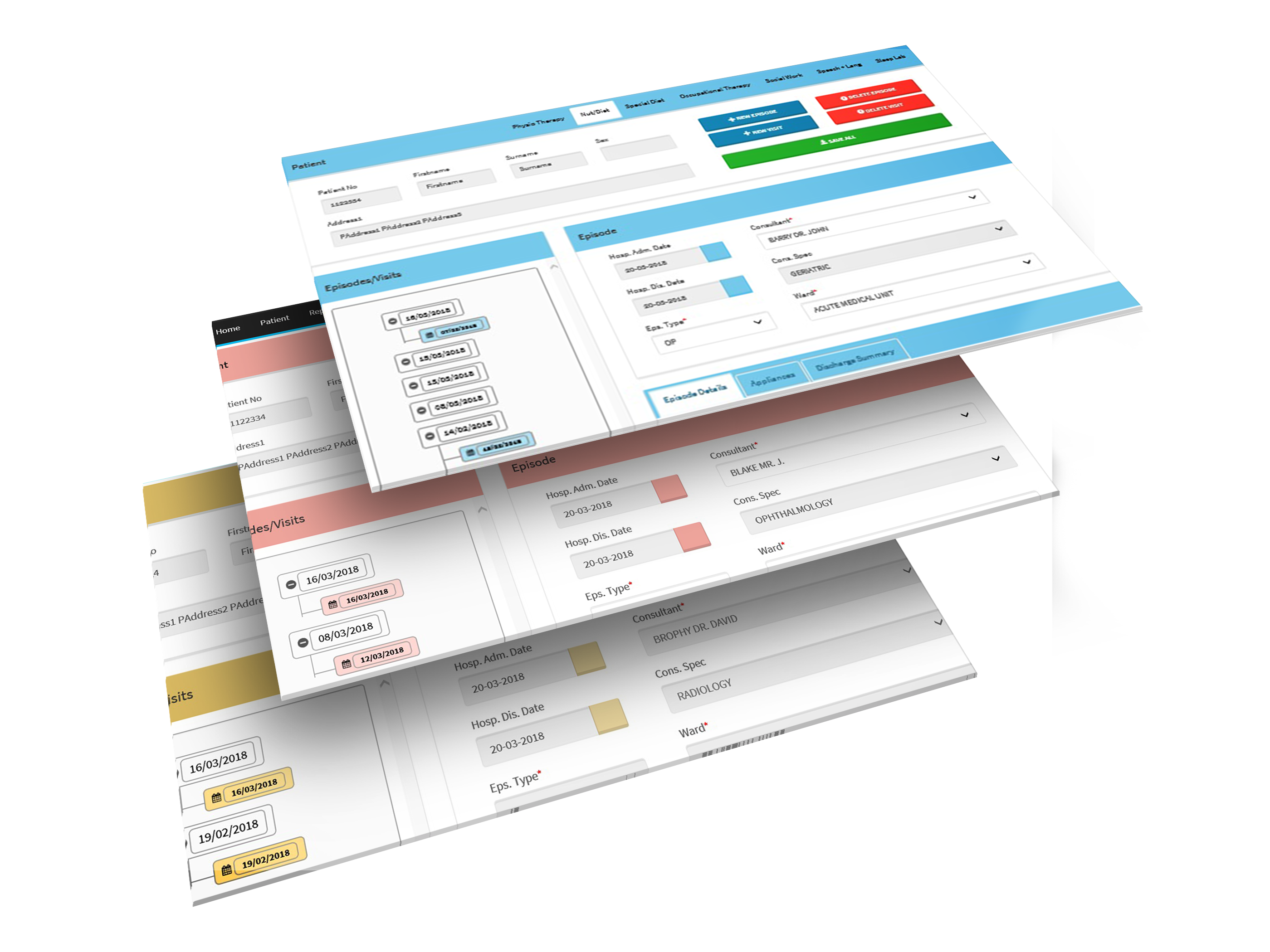 Inter-AHP solution: Helping to improve the Hospital bed crisis.
According to the INMO (2018), The number of people on trolleys and wards awaiting a bed in an Irish hospital has risen 107% compared to 2006. The growing number and complexity of patients attending emergency departments has created a need to strengthen and broaden the workforce to increase its resilience and effectiveness (Atwal & Caldwell, 2005). AHP's offer a range of skills that are well suited to supporting Emergency Department teams to manage their increasingly complex case mix. Having the right staff and skills, in the right time and place with the right tools can reduce long delays in patient discharge and reduce re-admissions.
According to an NHS (2018) report, during 2017/18 a pilot project on integrating AHP services has shown:
• admissions to Frimley Park Hospital reduced by 2% in Surrey Heath compared to a national average increase of 7% in 2017
• excess bed days were reduced by more than 1,000
• re-admissions and attendance reduced by 108 .
 "Having the right staff and skills, in the right time and place with the right tools can reduce long delays in patient discharge and reduce re admissions".
The Inter-AHP Suite is designed to facilitate Allied Health Professionals spending more time on patient treatment, delivering patient care while reducing time spent on data entry, administration and reporting.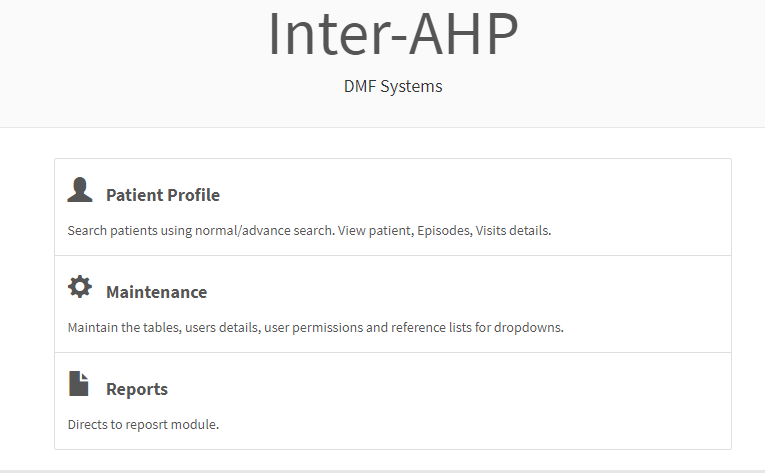 How AHP's can deliver evidence based/informed practice to address unexplained variances in service quality and efficiency?
DMF systems Inter-AHP supports all Allied Health disciplines to collect and collate therapy outcome. The solution generates data reports that can be viewed by therapists to track changes for individual service users as well as combined reports which enable analysis of outcomes at a service level. Inter-AHP is designed to run on mobiles, tablets, laptops and PCs.
Inter-AHP is designed in line with the National quality board, Five Year Forward View's pilot program. Inter-AHP is a tool that supports NHS provider boards assure the delivery of compassionate, effective, safe, sustainable high-quality patient care.
The system allows AHP Departments to easily record the Patient's treatment, Medication, Treatment outcome and details of all appliances provided to the patient. The system also supports the tracking and management of direct and indirect patient care including Group sessions and Staff and Patient Training sessions.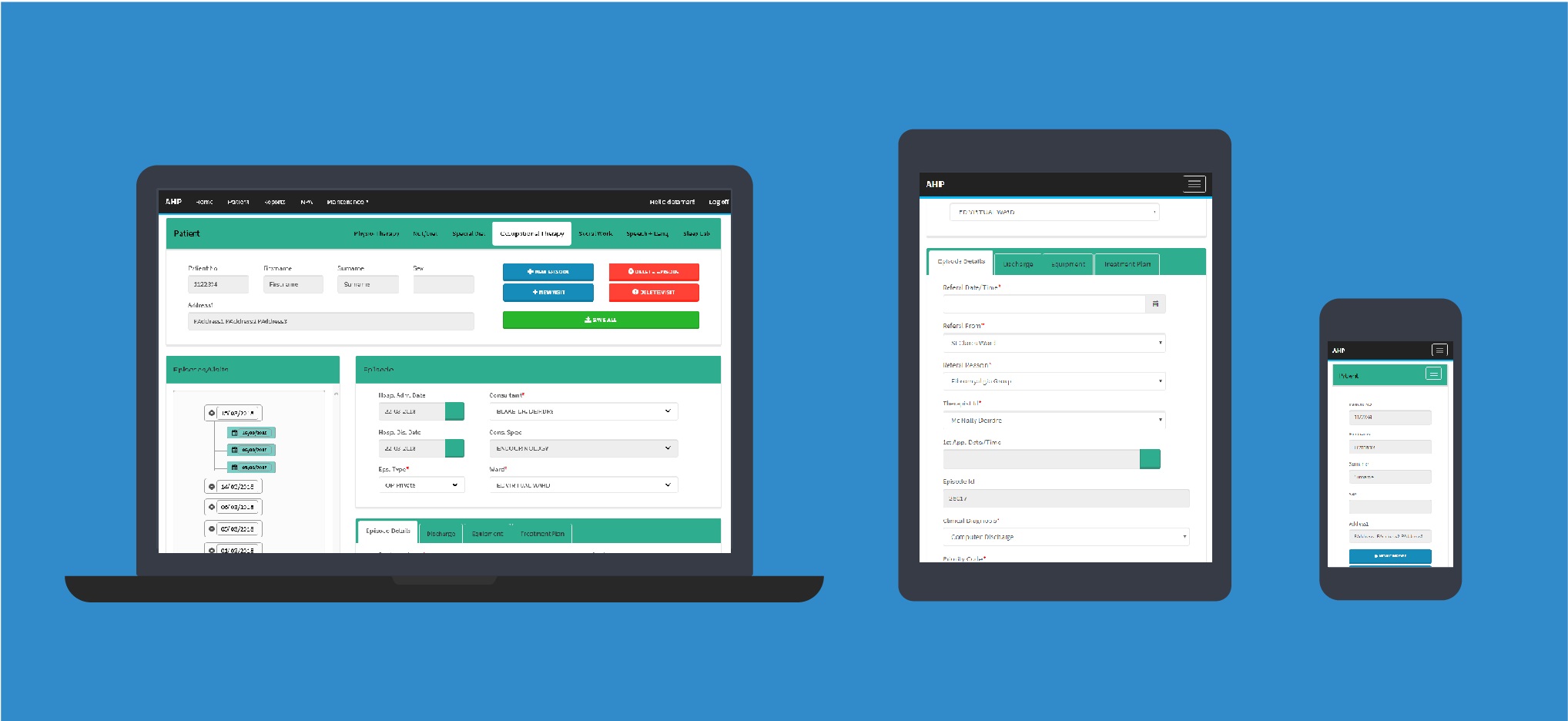 Please Click below to see how Inter-AHP could streamline AHP's Work Flow.
Allied Health Professionals
References:
Atwal, A, Caldwell, K (2005) So all health and social care professionals interact equally: a study of interactions in multidiscipliary teams in the United Kingdom. Scandanavian Journal of Caring 19: 268–273.
Carlsson, E, Ehnfors, M, Ehrenberg, A (2010) Multidisciplinary recording and continuity of care for stroke patients with eating difficulties. Journal of Interprofessional Care 24(3): 298–210. 
Phillips, A, Stiller, K, Williams, M (2006) Medical record documentation: the quality of physiotherapy entries. The Internet Journal of Allied Health Sciences and Practice 4(3): 1–17. 
Amarasingham et al. (2013) Allocating scarce resources in real time to reduce readmission: a prospective controlled study
Westbrook et al. (2011) How much time do nurses have for patients? A longitudinal study quantifying hospital nurses' patterns of task time distribution and interactions with health professionals.
HSE (2016) National Electronic Health Record
NHS (2018) Allied health professions supporting patient flow: a quick guide
INMO (2018), Trolley Watch Analysis Report.